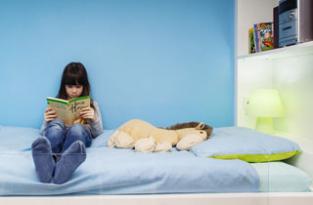 Pokój dla dziecka niczym budowla z klocków? Czemu nie! Niejeden maluch marzy o takiej aranżacji. Co więcej, nie oznacza to wcale intensywnych kolorów i tradycyjnego dla pokoi dziecięcych eklektyzmu. We wnętrzu zaprojektowanym dla Natalii znalazły się delikatne i naturalne barwy – dominuje biel i drewno. Połączenie dziecięcej fantazji i doświadczenia projektantów zaowocowało funkcjonalną przestrzenią z nutką szaleństwa malucha.
Pokój dla dziecka powinien spełniać kilka podstawowych funkcji. Przede wszystkim maluch w jego wnętrzu musi czuć się bezpiecznie i przyjaźnie. Rodzice również mają coś do powiedzenia – dla nich powinno być przede wszystkim praktycznie. Aby połączyć marzenia dziewczynki z oczekiwaniami rodziców, architekci zdecydowali się na stworzenie całej zabudowy na podstawie prostokątnych brył tworzących duże klocki. Dzięki połączeniu wyobraźni dziecka i doświadczenia architektów z pracowni 81.WAW.PL powstało prawdziwe królestwo dla Natalii.
Cały pokój jest niezwykle jasny, a duże okna znajdujące się naprzeciw wejścia, dają poczucie przestrzeni. Dzięki przeszkleniom miejsce na stanowisko do nauki jest wręcz wymarzone Biurko ustawione przy oknie to najlepsza lokalizacja – światło dzienne doświetla je właściwie przez cały dzień. W pokoju dominują jasne kolory, co dodatkowo potęguje wrażenie przestrzeni i powiększa optycznie pokój. Reszta wykończenia została utrzymana w podobnej kolorystyce – białe kubiki, i ściany oraz jasne drewno na podłodze. Akcentem kolorystycznym jest niebieska ściana nad umieszczonym na wysokości łóżkiem. Jedynym oświetlenie w królestwie Natalii, poza lampką przy biurku, jest "klocek" sufitu, w który został niejako wpisany świecący sufit napinany. Jest on głównym źródłem światła.
- Centralnym punktem jest bez wątpienia łóżko na wysokości i to ono stało się podstawą dla całej koncepcji pokoju – tłumaczy Anna Paszkowska, architektka z pracowni 81.WAW.PL. Łóżko zaplanowano po prawej stronie od wejścia do pokoju. Ustawiono je na trzech mniejszych klockach. Każdy z nich pełni inną funkcję. W jednym umieszczono szuflady na drobiazgi, drugi jest zamykaną szafą na zabawki, zaś trzeci kryje schody prowadzące wprost do łóżka. - Dzięki temu łóżko wygląda tak, jakby było zawieszone w powietrzu – dodaje projektantka. Aby Natalia czuła się jeszcze bardziej bajkowo, wnękę podwyższenia pomalowano na kolor niebieski w odcieniu pogodnego nieba. Dookoła łóżka znalazło się miejsce na półki – aby było w pełni bezpieczne, zamontowano barierkę z przezroczystej pleksi.
Lewa strona pokoju, jak cała reszta, bazuje na zabudowie z dużych sześcianów. Dolną część stanowią otwarte półki, które pełnią rolę regału – Natalia może tam przechowywać podręczniki, książki i najpotrzebniejsze rzeczy. Wyższa, środkowa konstrukcja kryje szafę - są tam drążki na ubrania oraz półki. W najwyższym klocku można przechowywać najrzadziej używane rzeczy, pościel bądź odzież sezonową.
Dzięki pomysłowym rozwiązaniom architektom udało się stworzyć przestrzeń idealnie wpisującą się zarówno w potrzeby, jak i marzenia dziecka, które będzie chętnie i miło spędzać tu czas. Jednocześnie jest to miejsce zapewniające rozwój i bezpieczeństwo małego mieszkańca.