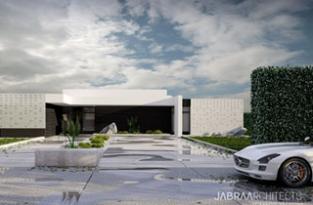 Nie-typowy dom z płaskim dachem w sąsiedztwie typowej, prowincjonalnej zabudowy w chaotycznym krajobrazie to świadoma odpowiedź inwestorów i pomysł na kształtowanie przestrzeni, estetyki i wzorców w otwartej scenerii podmiejskiej.
Powierzchnia działki: 1800 m2
Powierzchnia użytkowa: 257m2 + 51m2garaż
Projekt: JABRAARCHITECTS, Tomasz Zaleski
Realizacja: 2015 rok
Projekt domu o powierzchni 308m2 z basenem dla rodziny ceniącej sobie bliskość natury, prywatność i otwartą przestrzeń z dala od wielkomiejskiego zgiełku Wrocławia, z którym łączą Ich obowiązki zawodowe, zaprojektowali architekci z pracowni JABRAARCHITECTS.
Działka i otoczenie
Działka, na której zaprojektowano dom usytuowana jest na obrzeżach podmiejskiej wsi, której tkanka urbanistyczna kształtuje chaos w krajobrazie miejscowości. Bezpośrednie otoczenie działki stanowią przeważnie nowe domy o architekturze tzw. "typowej", która nie koresponduje z architekturą starej wiejskiej zabudowy.
Działka o powierzchni prawie 2000 m2 o bardzo dobrych proporcjach nie stwarzała ograniczeń projektowych co do formy i usytuowania budynku, przez co możliwe było zaprojektowanie bryły o rozłożystym rzucie swobodnie wpasowanym w geometrię działki.
Architektura
Dom w Żłobiźnie to projekt jednokondygnacyjnego domu jednorodzinnego utrzymanego w nowoczesnej, oszczędnej formie z emanacją nienachalnego luksusu . Budynek niejako kontrastuje z chaotyczną zabudową otoczenia, w związku z czym wysokie ogrodzenie z żywopłotu stanowi doskonałe tło i podkreśla charakter zaprojektowanego budynku.
Reprezentacyjna strefa wejściowa została podkreślona szerokim podjazdem, a ukryty w bocznej ścianie wjazd do garażu, umożliwił efektowne zaprezentowanie horyzontalnej bryły budynku od strony frontowej.
Budynek charakteryzuje się prostą, minimalistyczną formą. Zewnętrzne elewacje posiadają niewielkie okna, ponieważ głównym zamysłem projektanta było otwarcie budynku panoramicznymi przeszkleniami na wewnętrzne patio z basenem oraz wyeksponowaną część rekreacyjną ogrodu. Zostało ono zaprojektowane w taki sposób, aby jego użytkowanie zapewniało mieszkańcom całkowitą prywatność.
Zastosowana na elewacji szkliwiona cegła przejawia ponadczasową elegancję, natomiast elementy drewna zmiękczają geometryczny charakter białej kubatury.
Funkcja
Funkcja została rozwiązana w bryle jednokondygnacyjnego budynku. Rozkład poszczególnych pomieszczeń oparto na głównych kierunkach komunikacyjnych wschód-zachód i północ-południe, z czytelnym wyodrębnieniem stref mieszkalnych – dziennej i nocnej. W centralnej części domu architekci przewidzieli strefę dzienną, która panoramicznym przeszkleniem od strony kuchni, jadalni i salonu otwiera się na wewnętrzne patio. Na osi północ – południe przewidziano również gabinet, łazienkę, pralnię z suszarnią, garderobę, spiżarnię i kotłownię. Strefy nocne dla rodziców i dzieci zostały zaprojektowane w dwóch odrębnych skrzydłach budynku, przez co zapewniają intymność i spokój. W skrzydle dla rodziców przewidziano sypialnię, łazienkę, garderobę i saunę, natomiast w części dla dzieci zaplanowano dwie sypialnie i garderobę. Garaż zlokalizowano w części frontowej skrzydła północnego.